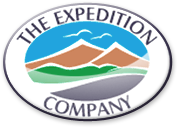 Desert trekking-Morocco
Day 1: Arrival in Marrakech
Meeting at the airport and then transfering to Hotel in Medina. Night in Hotel with BB
Day 2: Marrakech - Col Tichka (2260 m) - Ouarzazate - Agdez - Draa Valley - Zagora - Faija -
We took a minibus from Marrakech around 8:00 pass by Col Tichka the finest and highest road pass in Morocco, snowy winter, downhill to the South of Morocco just after the pass, pre-desert landscape, dry, oasis, picnic lunch just after Ouarzazate and finally the famous long walk down the Draa Valley, 200 km of date palms (harvest in October), in we will discover beautiful landscapes, some dwellings, the famous fortified villages, then stop at Zagora to change minibus, a van that will take us to the great desert plateau Faija 36 km from Zagora where we meet our team of camel drivers in the evening. Encampment in front of the mountain of Jebel Bani.
Course: 400 km
Day 3: Plateau Faija - Jebel Bani - Col Oum Laachari - Oued Lemhasser - Oasis - camp
Getting up early, loading the camels and direction Hamada, 30 minutes walking on the plateau and mountains Faija SAGHRO pre-desert and rocky descent easy, a true desert mountain (Black Mountain, a few greens, some nomads in Bedouins tents made of goat hair and camel). Lunch will be in full desert valley, then on through the valley and a new small pass we arrive in camp near a spring flowing just beside a small marabou remised. Camp at the foot of Jebel Abbes.
Duration: 5:30 walk / 17 km
Day 4: Oued Lemhasser - Dunes Chegaga - camp at the foot of the dunes
We leave this desert valley, walking on the bed of a dry river finally flows into the vast desert that begins with a vast rocky plateau just after crossing the Col El Abbes. Beautiful panoramic view over the desert sand (dunes Chegaga small distance) on a trail just for carrossale camel; really a test amount to the neck and down on large black slabs, limestone well eroded by wind and heat ; it looks like a mountain carved. Petit point of water from a single palm tree, we can take our meals. Then the stony desert. The urge to water, sand we are accelerating progress to achieve the dunes CHEGAGA, nice walk with the sunset. Camp.
Duration: 5:30 walk / 20 km
Day 5: Dait Chegaga Dunes - Dunes Bougarn - camp
After the multitudes of small dunes Chegaga starting parallel to eastern Jebel Abbes, direction Mhamid, Oued Draa. Plateau Chegaga planted in principle to turn the Draa Valley. Wheat Zagora, 2 km long. Lunch under tamarisk trees, then on to the dunes Bougarne, beautiful area less travelled, we take the opportunity to sleep under the stars. This will be the biggest step of the hike.
Duration: 5H / 16 km
Day 6: Bougarn Dunes - Dunes of Oued Naam - camp
Very early departure to enjoy the sunrise over the beautiful dunes Bougarn (small dunes, Tamaris trees, shrubs of the desert Acacia) camels walking along the stony plateau less. In the afternoon around 14:00, we take our lunch. We plant our tents near a well. Opportunity to advance by a march of 2:30 to reach the dunes Mhamid and enjoy a morning departure to Marrakech just to have enough time to Marrakech (3H visit the next day).
Length: 5:30 / 16 miles
Day 7: Oued Naam - dunes Mhamid - Zagora - Marrakech or Ouarzazate - Hotel
We leave early for work. Our beautiful desert landscapes stage, we lose ourselves in a huge tray of small dunes with shrubs and Tamaris, we Regab the dunes on the road to Mhamid. Lunch then visit the library of ancient manuscripts of books of mathematics, philosophy ... back in the Draa Valley, Ouarzazate and then to Marrakesh. Hotel. Possibility of the 15 km in 2:30 the day before (day 06) and from early in the day 7 to enjoy the last hours of the day 7 visit to the city of Marrakech.
Duration: 3 hours walking / 8H transport to Marrakech
Day 8: Transfer to airport, end of our services.
If your departure time allows, visit the gardens and historical monuments of the city (Royal palace / museum / Koranic school / mosque Koutoubia / Saadian).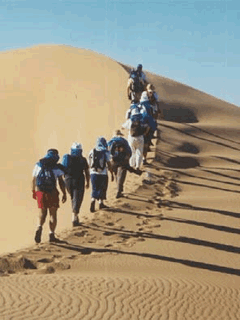 This trip is led by our team of local guides.
Dates:
Desired period in late October to late April Duration 8 days, 5 days walking Approximately 25 to 28 hour walk and 75 km in total
The trip costs £800 exc. Flights.
Flights cost around £150 Duration 8 days Suitable for anybody with basic walking experience.
Book Online:
Alternative payment methods
Cheque or bank transfer
Got a question?
contact us
info@expeditioncompany.co.uk
Discounts
Book with a friend and you both save £75